Antwerp QC, Much of Belgian Core, Leaves Competitive Quidditch

Rock Hill Roll Call is your in-depth guide to the 80 teams that will compete for the title of World Cup 8 Champion. We've reached out to writers and analysts all over the country to bring you the lineups, strategies, focal points and aspirations of each and every attending team. Whether you are looking for a leg up on the competition or just want a detailed preview of the sport's main event, this is the place for you.
By Tad Walters
Sam Reagan turned some heads at THE Fantasy Tournament this past summer as keeper for Star-Spangled Hammered. He now finds himself as the crown jewel of Sam Houston State University–except now as a beater.
Reagan is easily the best overall player on the Bearkats squad. His speed, game IQ and physicality allow him to have a major impact on any game he is in. Reagan's decision to play beater or keeper before each game has had a drastic effect on the outcome of games for Sam Houston. As a beater, he plays an aggressive, Southwest-oriented style, and uses his speed and aggression with a bludger to create lanes for his quaffle carriers. On defense, Reagan closes gaps with his feet and picks off the offense until he creates a turnover. As a keeper he plays close to the hoops and waits to swat down long shots and create fast break opportunities. His agility and quickness make him a threatening ball handler and competent driver. This team will live or die by Reagan's performance at World Cup.
By Anonymous
Sam Houston has had a roller coaster of a season this year. Its performance from tournament to tournament hinges solely on the attendance of two players: Jaycob Freeman and Reagan. Chaser Freeman is a great tackler on defense and an efficient finisher around the hoops on offense. Reagan can control the game at beater or—depending on the game—add some extra power to the quaffle game. Add keepers TJ Goaley and Grant Boren to the mix and you have a speedy, drive-heavy offense that will struggle against tight man or efficient zone defenses but will succeed against less athletic or less intelligent teams.
At seeker, the Bearkats usually rely on Ryan "Stretch" Carr, whose sheer size and lankiness make him an intimidating seeker who towers over most snitches. If given enough beater help, Carr could come away with a couple of game-winning catches for Sam Houston.
Overall, Sam Houston is not a complex team. It plays the same physical Southwest game, but just does not have the athleticism or game IQ to dominate matches like the Big Four teams do. Depending on the performance of its top players, Sam Houston could be your hardest match of the day or the easiest match you have had all year. But expect the Bearkats to be physical and unrelenting at World Cup as they try to prove they have right to be there following last year's performance.
---
By Anonymous
Despite being nationally recognized as Texas A&M University's B-team, the Silver Phoenix has performed above and beyond that letter all season. Many people have actually questioned if this squad is capable of beating its A-team, the Aggies.
Unfortunately, the spring has proven to be a rough time for the Silver Phoenix. The team has suffered some roster turnover and inconsistency during its second-semester tournaments this year. The biggest question mark for the squad will be if its current players can step up and perform at the same level the team was playing at in the fall when its main losses were to the Big Four of the Southwest Region.
Starting from the back, this team has Trey Windon at keeper, a player who has been a rock for the Silver Phoenix all season with his on-field leadership and lead-by-example mentality. He is tenacious on defense—a quality that spills over to the rest of the team—and does not shy away from tackles, swarming the quaffle on every play.
On offense, the Silver Phoenix plays similarly to Texas A&M in that it has a pass-heavy system that allows it to exploit its players' speed. The team does not have much size on its World Cup roster. Expect the Silver Phoenix to pass until it has an opening to Shawn Erwin—who has the ability to sneak in and cut up defenses—or Alyssa York who rarely subs and consistently hits the quick third pass for a goal by the hoops.
The Silver Phoenix beating line is probably the team's biggest strength thanks to the recent additions of Aaron Deering and Carlos Elarba, who are both veteran players. Deering is more conservative and methodical while Elarba is very aggressive and fantastic at regaining control. Their play styles are very different, but greatly benefit their team's ability to show different faces in games—making the squad unpredictable.
By Mollie Lensing
Coaching can make or break a team, and in the case of the Silver Phoenix, it has made the squad deadly this season. Under the helm of Rachel Harrison and the assistance of Casey Faulhaber (both of whom are extremely underrated beaters who have played for Texas A&M), the Silver Phoenix has shown significant adaptability and game smarts that are not normally associated with a B-team.
Harrison has helped this team really develop its own unique identity with an overflowing amount of team pride and spirit. As a non-playing coach, she has helped this team thrive on in-game adjustments and find success despite having many new players this season. Not many teams have the luxury of such an experienced non-playing coach, which definitely provides a nice advantage to the Silver Phoenix.
In addition to Harrison's help, the Silver Phoenix has also greatly benefitted from the additional coaching it has received at practices from Kifer Gregorie, Sean Fry and Tyler Sessions of Lone Star Quidditch Club, who regularly practice with the Silver Phoenix. The influence of these players is apparent in the Silver Phoenix's physicality and game pace. Learning from players of this caliber has matured the Silver Phoenix's game at a rapid pace, making it a legitimate threat to many teams.
---
By Anonymous
Although its only a first-year team, Tribe Quidditch brings veteran knowledge as well as impressively talented young blood to the table. Two of its rookies, Oscar Hernandez and Justin Lamb, stand out from the rest and will only improve as they get more experience under their belt.
At chaser, Hernandez is incredibly fast and quite strong for his slim frame. His frequent goals off the start build early confidence for his team and immediately warn his opponents that he is not afraid to drive. In the World Cup 8 hype video, Hernandez shakes off a University of Texas neck wrap on a fast break, fakes out the keeper and puts it through the short hoop. If Hernandez plays to his usual physicality and speed at World Cup, expect a lot of points from this kid.
In the defensive zone, Lamb has quickly picked up the game and excelled in front of the hoops as keeper. His height and reach forces opponents to make high passes behind the hoops, eliminating their long-shot option. He handles the ball well on offense with enough of a driving threat to draw the defense and allow a lofty pass for a dunk on the opposite hoop. With solid support from keeper Brent Rowland, look for a strong keeper defense from Tribe.
By Anonymous
Tribe, in its first season as a team and in the toughest USQ region, has secured a bid for World Cup 8. Bringing together talent from both Arkansas and Oklahoma, and boasting the famous Peterland duo, the team definitely has its own identity in the sport.
Founded by former University of Arkansas players Justin Peters and Mandi Amigh with Ian Strickland, Tribe is the only community team in the area and many senior players from strong college teams look to join after graduation. However, in its current state, a majority of the squad's players are in their first season of the sport. That is why the leadership of Peters and Strickland, in practice and in games, is so crucial.
Peters is one of the best teachers of the game, and having Strickland to bounce ideas off of makes every second of practice a chance to improve. Not only that, but on the field, it is clear why this duo has become well-known in the community. On the quaffle, they both have extremely good handling and quickness coupled with an enormous amount of strength. Being on the receiving end of a Strickland tackle or a Peters shove is not a good time.
On the beating end, Amigh has led her band of new players well and created a solid defensive force. With Peters finally returned to full strength after a crippling injury in preseason play, look for him to pull double duty. His chemistry with Amigh will make them a brutal duo.
With the return Peters at World Cup, Tribe's body can finally match the strength of its heart.
---
By Luke Changet
Despite lacking on the offensive, College of Wooster Scottish Nationals' beaters on defense are this team's x-factor. If they can step up their game and play less timid, they could help Wooster's defense immensely.
These beaters play a version of the Hoop Zone, and that strategy requires great beaters in order to be truly successful. Currently, Wooster's beaters sit back and play ultra-conservatively. That is not conducive to a great defense, and so against good teams, Wooster's defense always falters. Even in close games, Wooster's beaters have no snitch presence, which makes winning almost impossible for the Scottish Nationals.
If Wooster's beaters can step up on defense and when the snitch is on pitch, this squad could stand a chance against some middle-tier teams. But until the Scottish Nationals get more playmakers and offensive development, the bottom is their ceiling for now.
By Luke Changet
There is no "I" in "team. But luckily for the Scottish Nationals, there is an "I" in "Chris."
Chris LeCompte is the only real quaffle playmaker on this team, and if Wooster has any chance of success at World Cup 8, it is through LeCompte. Realistically, Wooster has no shot at making bracket play and is likely to go 0-5. However, if LeCompte can get into a groove in a later game against a weaker opponent, Wooster could be able to snag a win. But he will have to do it almost entirely on his own.
Wooster does not have the players yet to execute today's beating strategies. It cannot bring beaters on offense for anything besides a weak attempt at regaining control. This means that the team's chasers do all the work themselves. More often than not, the Scottish Nationals' offense just turns into LeCompte trying to beat his man one-on-one and make a shot, though sometimes their chasers will pass the ball around to try and find space.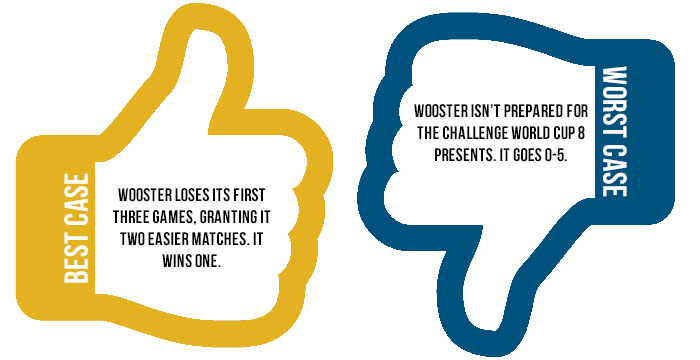 Graphics and photo illustration by Amanda Dallas. Original photos by Monica Wheeler (NAU, Gambits) and Will Michels (Texas).
Archives by Month:
Archives by Subject: