Proven Contenders: Rutgers University
Photo by Mike Iadevaia
No. 3 Rutgers University
Record: 19-2
Vs. Top 10: 7-2
Defensive Sets: 2-2 Zone
Strengths:  Offensive Dynamism, Chaser Depth
Weaknesses: Physicality, Beater Depth
A half decade ago, it would have been nearly impossible to imagine a Rutgers team sitting here, amongst the upper echelon of the college game. Entering the 2017-18 season, Rutgers was facing a year-long suspension from its school and competing as a club team. In the 2018-19 season, still on probation, they went 1-14.
But on the back of a massive recruiting class for the 2019-20 season, Rutgers flipped the script on their program trajectory. Bringing a young squad to regionals, they managed to qualify for nationals. Coming back from the pandemic, they delivered a second recruiting class full of future stars and made their way all the way to the quarterfinals at US Quadball Cup 2022. 
Entering this season, just four years after going 1-14, Rutgers was the one sure thing in college quadball. The team returned 10 players that spent the summer with the New York Titans, including four on the main roster. They had top-tier talent across all positions even before starting the recruiting process and only added from there.
The Scarlet Knights started their season close to home at the Oktoberfest Invitational, where they played a three-match series against No. 8 Harvard University. Rutgers took the series with wins of 160-105 and 105-50, with a 140-115 loss in between. They concluded the semester at the Northeast Regional Championship, going undefeated on the weekend with a dominant win over No. 10 RPI (145-30) and another over Harvard in the finals (215-120), to earn their first-ever regional title.
The team began the spring semester at Business Bowl, hosted by the No. 2 University of Virginia. The two teams faced off in a pair of games, with Rutgers rallying to win the first 
(165-140) before starting cold in the second and losing 190-185. Questions abounded coming out of the tournament about Rutgers' usage rates, as the team chose to play all the way through its depth, regardless of the scenario on the pitch.
Rutgers' final tournament of the regular season was their own, as they hosted a cadre of the best teams in the country at Knights Cup. Though weather limited the team's games on the day, the Scarlet Knights did score a victory in a marquee matchup against the No. 4 University of Michigan, coming away victorious in a 150-145 match that came down to the wire.
It's hard to talk about Rutgers without starting on the Ng twins. The two are veritable stars of not just the college game, but the sport as a whole. Byron Ng is one of the most fluid quaffle players in the country, weaving through defenses and hitting pin-point push passes in traffic around the hoops. He is a key part of the team's lethal give-and-go game, with a great eye for off-ball positioning as well. And he has added some desperately needed physicality to his game, often serving as the point defender for the team. Jason Ng, meanwhile, has established himself as the best college beater in the country not named Kyzer Polzin. Jason is the full beater package, featuring athleticism, a big arm, and a variety of skills. Working with a variety of partners, he's able to consistently push his advantages to the limits while also covering for his teammates as needed.
With all of that said, a pair of stars can only take a team so far. And while the Ng brothers buttress that team in difficult spots time after time, the team would not be contenders if it just had them. What makes this Rutgers team so special is just how deep it runs, and just how many players are ready to step up and contribute. 
We'll start with Annika Kim. The co-captain of the team also serves as its quarterback, running the offense from up top much like her Rutgers predecessor and Titans teammate, Lindsay Marella. She's got great field vision and a strong pass and shot that make her a multi-faceted threat and a matchup nightmare for defensive schemes. 
Then there's Colin Fagan. One of the veterans of the team, he's the perfect complement to Jason coming off the bench at beater. Where Jason plays smooth and precise, Fagan plays like he was shot out of a cannon. Fagan has never seen an engage opportunity he didn't like, or a loose ball scramble he couldn't win. When his game is clicking, he can take over a match like few other players in the college game.
The rich only seem to get richer in New Jersey, and recruitment this season brought Rutgers a pair of gifts in chasers Matt Cunha and Justin Merryfield. Both are big bodies around the hoops on both offense and defense, and, for first-year players, have a tremendous sense of offensive flow and where scoring opportunities arise in the halfcourt. This is even more unbelievable when you consider Merryfield did not even play for the fall semester, but came up with the final two goals of the team's victory over Michigan.
But no single player on this team makes it tick more than Jahved Cole. Most collegiate teams can only dream of having a wing player like Cole. He knows exactly where to be in the zone, and, after receiving a pass, can beat a team with a drive or a pass. He seems to have eyes in the back of his head at times and can pick out teammates in dangerous positions at-will. The Rutgers offense always looks its best when he is on the pitch, and he will be a brutal assignment for opposing teams to handle all weekend at nationals.
Offensively, Rutgers is at its best when the team is zipping the ball around the zone in its box setup, dragging opposing defenders out of position and capitalizing on the holes that open. The Scarlet Knights usually force opposing defenses out of position in one of two ways. The first is a simple drive-and-dish action. Players like Byron and Cole are capable of winning one-on-one with most point defenders and getting into the lane, where their ability to shoot forces hoop defenders to stay honest, leaving huge cutting lanes for tall, athletic wing chasers like Merryfield, Cunha and Reiter.
When they cannot win the one-on-one up top, or if beaters are clogging the lane, they run a two-player action on one side of the zone, looking to drag a beater or chaser or both into a back corner to expose space up top. Players like Byron and Kim are incredibly gifted at using this space to the fullest, creating goals that other college teams couldn't even dream of producing. 
When things go wrong for this offense, it's usually due to the passing getting stagnant. In those situations, the team's ball-carriers have a tendency to get trigger-happy, launching low percentage shots from up top. But to force Rutgers into this kind of a game requires either elite point defending or a significant beater edge, neither of which many college teams can claim on them.
If there was any other red flag for an offense that has averaged just under 130 quaffle points per game in nine matches against ranked opposition, it would be the fact that not a single top 10 team has played a hoop zone against the Scarlet Knights all season. And while, in theory, Rutgers should have all the tools necessary to break one down, we have seen many of the best teams in the country struggle to do so the first time they see it. And looking at the likely ways the bracket may break, that first time could be as late as a quarterfinal match against the No. 7 University of Texas or a finals match against Michigan.
Defensively, Rutgers runs a compact 2-2 zone that heavily relies on its length and size to force turnovers and make up for the lack of physicality. When the zone is working, it looks like a whirling dervish of long arms getting hands on every incisive pass or shot while Jason or Fagan keep opposing beaters out of the lane with confident engage beater positioning.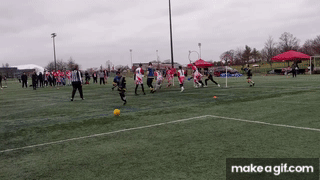 But when the defense breaks down, it tends to break down hard. At the Business Bowl, Virginia exposed just about every flaw in the Scarlet Knights defenses over the course of the two games. They often attacked the defense from behind the hoops, forcing Rutgers' beaters to swap roles, turning their engage beaters into free beaters and vice versa. The team's personnel seemed ill-equipped for the swap, leading to some incredibly easy goals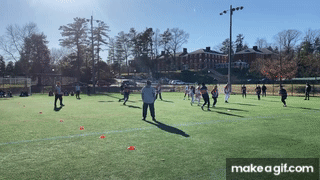 Other times, Virginia simply attacked Rutgers lack of defensive physicality, easily winning one-on-ones at the point and hitting the lane aggressively. When this would happen, Rutgers often seemed undisciplined in their defensive rotations, overcommitting to the driver with both chasers and beaters and leaving the weak side hoop unguarded.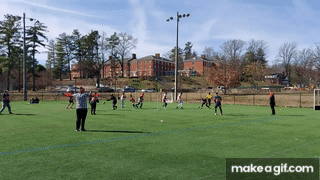 While Rutgers seemed to have cleaned up some of these issues in its match against Michigan at Knights Cup, the Wolverines don't have the type of dynamic passing offense that can give the Scarlet Knights fits. We might not really know if the defensive shortcomings have been fixed until they take the field against a team like No. 5 UTSA in pool play on Saturday night.
No team in the country has steered its ship as consistently as Rutgers. They are the only team to be in the top three of every poll we put out this season, putting up strong results all year while responding to both losses quickly. They've put on display their top-end talent as well as their depth, and have not been outclassed in a single game. Their offense is must-watch, and their games tend to be high-paced, high-scoring affairs that call back to an up-tempo version of the sport.
If Rutgers hopes to raise the cup on Sunday, a feat this squad is more than capable of, finishing first in the pool is an absolute must. To do so, they'll have to take down a UTSA team out for revenge after a fiery bracket play matchup a year ago, with the loser likely destined for a matchup with No. 1 Creighton University in the quarterfinals. But if they win the pool, the Scarlet Knights should fall into a comfortable and familiar side of the bracket, with possible games against Harvard and Michigan along the way.
All year, there have been questions about whether Rutgers is built to be Creighton's kryptonite. We missed out on getting that answer at Blue Jay Classic, as the Scarlet Knights had to back out of the event, but if they can perform up to the level they've proven capable of this year, we may finally get to answer the question under the lights on Sunday night in the national final. And for a team as unflinching as Rutgers, there is not doubt they will be up to the challenge.