Proven Contenders: University of Michigan
No. 4 University of Michigan
Record: 13-4
Vs. Top 10: 4-4
Defensive Sets: 2-2 Zone, Hoops Zone
Strengths:  Physicality, Synchronization
Weaknesses: Depth, Sources of Offense
The University of Michigan entered this season as a relative unknown to many people across the nation. The team did not have notable results at US Quadball Cup last season, nor did they boast a large number of household names or members of the USNT Developmental Academy like many of their top rivals. They were isolated in a region that had not made waves on the college stage in recent years. While they would be rostering a number of players who got a lot of notice on MLQ's Detroit Innovators last summer, it was unclear how far said players would come on a college team famous for not having a non-playing coach.
How did the team respond to the general preseason apathy from the community? Simply put, they outworked and out traveled every team in the country. Michigan is the only team to play tournaments in a state on each coast—traveling to the Heroes vs. Villains Invitational in California and Knights Cup in New Jersey. They've played five other teams currently ranked in the top 10, a number matched only by Creighton University. And speaking of Creighton, they are one of only two teams to defeat Creighton this season, and the only team to do so twice.
Michigan opened the season at the very first official tournament of the season, traveling to the Ball Brothers Brawl in Indiana. There, they cruised to the final before running up against the No. 6 University of Missouri, who edged them out in a back-and-forth affair, 135-120. The team's next stop in the fall was at the Great Lakes Regional Championship, where Michigan exploded onto the national scene with a pair of upset victories over No. 1 Creighton, following up a 165-120 win on Saturday with a 180-170 win in the championship match on Sunday.
Spring semester kicked off with a trip to HVI, where a rematch with Creighton awaited. Michigan handled the top west coast teams comfortably, but Creighton got its revenge with a 165-70 win, and the No. 7 University of Texas knocked the Wolverines out of the tournament in the semifinals (155-110). Michigan closed out its regular season at Knights Cup, where the team played a pair of down-to-the-wire games against ranked opposition, beating No. 8 Harvard University (140-135) but falling to No. 3 Rutgers University (150-145). They also scored a win over No. 10 RPI (135-90) to round out their season.
While there are plenty of facets of this team to talk about when discussing their rise to national contenders, it's hard not to start with the recruitment this season of Julien Theuerkauf. Theuerkauf mixes speed and strength in a way that makes him all but unmatched as a driver in the college game. With bludgers out of the play, everyone from Creighton to Rutgers has failed to keep him away from the hoops. And when bludgers are around, he's added both a drive-and-dish and a mid-range shot to his arsenal as the season has continued. While there are still holes in his game, particularly on the defensive end, his performance earned him a spot on the USNTDA  just months into picking up the sport, and he continues to improve every game.
For better or worse, almost all of Michigan's offense runs through Theuerkauf and Jack Levy. Levy is, in many ways, Theuerkaufs opposite, preferring shots in the lane and incisive passes to forceful drives. But their styles play off each other well, and the two-man offense the two prefer to operate on one side of the pitch—with one playing up top and one playing behind hoops in a box formation—can be deadly, especially if their beaters can cause havoc in the play, as well. One of their favorite looks is a pass from behind to back up top just as the team's beaters engage, leaving the opposing team's best defender often out of position and creating a golden scoring opportunity. The timing of these plays between the quaffle players and beaters seems almost effortless at times.
Unfortunately for the Wolverines, the team has little else going for it on the offensive end. In the team's games against Rutgers and Harvard at Knights Cup, Theuerkauf or Levy scored or assisted on every single goal in both games. When Theuerkauf took his one stint on the bench against Rutgers, the Scarlet Knights instantly went on a 4-1 run in a game they only won by a single goal. 
Even with the two running the offense, passes to teammates often go incomplete, leading to lengthy scoring droughts in big games, such as the seven possessions it took Michigan to put away Harvard. The lack of offensive variety also puts a heavy burden on the team's beaters, who are often forced to try to get bludger control back from opposing beaters content to sit conservatively against them. And if opposing teams at nationals can shut down Levy and Theuerkauf, goals may be hard to come by.
Defensively, Michigan has run out both 2-2 and hoops zone looks in big games, often switching in between them until captains George Dering and Rei Brodeur have found a strategic matchup with which they are happy. The star of the show on the defensive end is Spencer Johnson, who has won matchups at point with just about every player he has come up against. Additionally, every player on this team is scrappy and constantly hustling. And because of that, Michigan might have the best transition defense in the country, whether its Christian Ridings flying back into the play with a beat; Johnson making an open-field tackle; or Amanda Margolis beating everyone to a loose ball in traffic.
Enabling everything the quadball game accomplishes for this team is a beater core that can rival any in the country. Brodeur and Ryan Hsu had a breakout summer in MLQ and kept it going for the college season. Hsu has a seemingly endless bag of tricks when it comes to skills, allowing him to win beater exchanges at an extremely high clip. But Brodeur is the one who makes those advantages count, and often seems to be responding to the engage before it has even happened. This means she consistently wins engage cleanups or pressures off wins, adding a level of dynamism to the pairing often only seen at the high club level.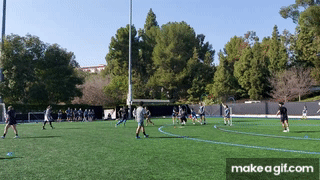 But while plenty has been said about Hsu and Brodeur, Michigan barely skips a beat when they sub out for Ridings and Robert Butler. Ridings has a big arm that he can use both to win exchanges and shutdown opposing attacks, while Butler loves to go to a jump dodge in exchanges. Both are comfortable in both free and engage roles and seem to shift between them effortlessly when on pitch together. 
Finally, the team has started getting some important contributions in the seeker game from Neil Peterson, who most recently caught flag runner Matt Cooper against Rutgers in just a short series of opportunities. Peterson was playing more minutes in the quaffle game earlier in the season, but the fresh legs seem to be benefitting him, allowing him to deliver the team 35 points with a good deal of consistency. While there are still some question marks in the team's seeker beating, it's clear that if they can get him looks, he's more than capable of delivering.
Though Michigan may have the longest odds of winning the title amongst the four favorites in a vacuum, the pool drawing could not have gone better for them. The Wolverines have drawn a rematch with a Mizzou squad that will be without Vincent Reyes as their pot two opponent, and a Brandeis University team that has struggled this semester against aggressive, athletic beating as their pot three opponent. If Michigan can cruise to the top spot in their pool, they will immediately make the quarterfinals, mitigating concerns of a lack of depth and leaving them fresh for a potential finals run. And if the last eight months have taught us anything, it's to stop doubting that of which this team is capable.