MLQ Preview: #StoppingtheStreak in the East
The East Division has spent two years as one of the league's most straightforward. Though early analysis in 2015 had the New York Titans and Boston Night Riders neck-and-neck, the Night Riders are 8-0 against the Titans in two seasons. New York, meanwhile, is 10-2 against the Ottawa Black Bears and the Washington Admirals and Washington is 5-1 against Ottawa. Each of the four teams have finished in the same place in both of the past two seasons.
At the top, this seems unlikely to change. Boston has never played a snitch-range game in the MLQ regular season and its roster looks as dominant as ever. But we may finally be seeing some muddling of the ranks beyond the top spot, as New York and Washington both sport glaring holes in their roster and face daunting trips to Ottawa.
There is no doubt that a regimented standings order could once again be in the cards in the East, but, even if it is, the path there should be more interesting than ever before.
Storyline to Follow: Two-Male Titans?
To say the New York Titans's non-male beater corps is thin would be quite the understatement. Their initial 25-player roster included just one non-male in the beater category, Arielle Flax, who has not played competitive quidditch since the 2015-16 USQ season. Their June 1 roster additions included one more non-male beater, Mary Cueva, who has bounced around quidditch programs up and down the east coast–including Florida's Finest and the Boston Night Riders–but has never broken out with the kind of play that would make her a consistent starting option.
How New York decides to handle this hole in their roster could determine their success, or lack thereof, in the season to come. One option is to tap into the utility of a couple of the female chasers on their roster: Rachel Ayella-Silver and Lindsay Marella. This is definitely a viable option as the team has no shortage of depth at non-male chaser, where Carli Haggerty, Missy Hanley and Molly Potter also reside. But Marella and Ayella-Silver are both more accomplished at chaser and it seems wasteful to use a Team USA chaser's minutes at beater.
The other option for the Titans is to party like it's 2013 in the Northeast and run a lot of two-male beater sets. They have the talent and depth at female chaser for it, with Marella and Haggerty both playing the position at an elite level and Ayella-Silver and Potter both consistent contributors. Their male beaters are well-versed in the strategy as well, with Kyle Jeon running the sets almost exclusively at New York University during his junior and senior years and Mike Madonna regularly teaming up with Jeremy Dehn in two-male sets at University of Maryland. CJ Junior has a deep understanding of the game and is highly malleable playstyle-wise and Devin Lee is a ball of potential ready to explode. New York lacks somewhat in offensive creators and a two-male set could allow them to create more within the bludger game.
Two-male beater sets have largely gone out of style in recent years, with many teams only going to them in snitch-on-pitch situations. But the Titans find themselves with a unique problem and the solution might just be a blast from the past.
Series to Watch: Washington Admirals vs. Ottawa Black Bears
In a division that has historically been very regimented in the standings, the season opening series could be one of its most interesting. Ottawa enters the season with only one win in two years, still looking for its first-ever series win. But the Admirals are short-rostered and have just the right weaknesses at beater to give the Black Bears a chance to spring the upset. Check out our full analysis of this match in our weekly preview.
Team That Will Exceed Expectations: Washington Admirals
I have been a sucker for this Admirals squad for years and continue to be, despite two seasons of let downs. This is a team that has been more athletic than New York and bigger than Boston, but has never been able to turn in anything more than third place finishes. Darren Creary keeps teasing me by showing up on 30-player rosters but not 21-player rosters and the team inevitably combusts in on itself.
This year, I'm daring to say those days are in the past. Patrick Rardin now sits in the driver's seat as head coach and I believe that he will bring some stability to the program for the first time, with the proper temperament to appease both the players from the University of Maryland as well as those from the Virginia schools.
This team has the ability, at full strength, to put Brenden Hutton, Bernardo Berges and Creary on a line together, creating the kind of matchups successful offensive possessions are made of. They also have depth and utility, with a cadre of quaffle players with a variety of specialities that can be put into the proper spots.
Beater may be a soft spot but that is less of an issue in this year's East Division than it would have been in past years. I am also bullish on Cody Nardone's conversion to beater, where I think his knowledge of the game and athleticism will go a long way. Look for him to pair up with Emily Camardo and become an effective pair.
Maybe this team will go the way of past Admirals squads and I'll be cursing myself for trusting them entering yet another season. But I truly do believe the stars have aligned just right this year and a second place finish in the East could very well be in the cards.
Breakout Player: Devin Lee, New York Titans
In the upper echelon of male beating, we tend to see two main archetypes. One puts their mark on a game by being everywhere at once, creating chaos and consistently keeping the opposing beater off-balance, in the way of Max Havlin and Tyler Walker. The other seeks to control the game by maintaining a consistent advantage, whether in bludger control, field positioning or both, and then uses that advantage to gain an edge over time, in the way of Michael Duquette and Jeon. While both can be effective, the former is the rarer.
Devin Lee, who plies his trade for Rutgers University during the USQ season and who is entering his second season with the New York Titans, has shown he has the potential to count himself amongst the rare chaos creators. Often overshadowed in the past, Lee has been a massive headache for some of the best beaters in the game and should get his due as a key center piece in the Titans' gameplans this summer.
Lee mixes a tireless engine with some of the more innovative bludger exchange moves we see in the sport today. Lee stays low to the ground, making himself a small target in the way of Mario Nasta, but can make a sudden throw from this position from a number of different release points. This keeps the opposition guessing and leads to a high rate of bludger exchanges won. In this clip from this winter's Cat City Invitational, Lee ties it all together, winning the exchange with a release point near his feet and pushing the play to clear out the second beater as well.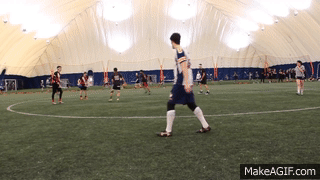 This summer, Lee will benefit from both the opportunity and the situation. Working with Jeon–and Duquette if he makes a rumored appearance on the Titans' practice squad–should allow him to continue his rapid development, while the aforementioned lack of non-male beating options could mean a lot of extra play time in big moments with two-male beater sets. It also felt like Lee was often held back by the pace and style of Rutgers play, something that should not be an issue with a more experienced squad like the Titans.
Lee appears primed to take the next step and the road could not be clearer. The Washington Admirals have their least experienced beater corps to date and while Martin Chiasson is a menacing presence in the heart of the Ottawa Black Bears roster, Lee should be up to the task. An early season matchup with the Boston beaters could be a long day, but expect Lee to leave the match better off for it and turn things up a notch the rest of the way, spurring a dominant set of results for New York on the back end of their regular season schedule and perhaps beyond into the MLQ Championship.
Division MVP: Tyler Trudeau, Boston Night Riders
One of the most important ways that chaser swatting will change the sport is in the creation of offensive opportunities. Gone are the days in which a beater can single-handedly beat out an entire chaser defense, all but handing their ball-carrier a free goal. Instead, teams will need to once again utilize their off-ball chaser to open scoring chances.
The most straightforward way for a pair of quaffle players to get an offense moving in dynamic ways is the old sports standby: the pick and roll. And perhaps no one in quidditch is as adept at the strategy as Tyler Trudeau, who–after making his third career USQ Final Four with a third different team in April–is primed to raise himself into the conversation of best keeper in the sport this summer.
Trudeau and Harry Greenhouse will spend a third straight summer on a line together with the Night Riders, a situation that–in past seasons–eft many viewing Trudeau as an accessory to Greenhouse's performance. But with the two split up for this past USQ season–with Greenhouse defending a title they won together with Quidditch Club Boston the year before and Trudeau moving to the newly created BosNYan Bearsharks–it was Greenhouse who often found himself on an island without options, instead forcing the issue to mixed result. Trudeau, meanwhile, continued to flourish offensively, leaning on his ability to drive left, his size in the lane and his consistent passing ability, albeit while surrounded by more talent in the quaffle game than Greenhouse.
But his most valuable trait may been in his ability to utilize instincts from other sports to create offensive opportunities in situations where quidditch offenses otherwise dry up. Take, for example, this pick and roll in the semifinals of USQ Cup 9, a match in which Quidditch Club Boston was getting nothing accomplished offensively.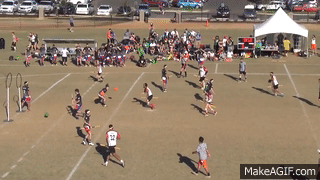 There is far more to a pick and roll than the screen itself and Trudeau exemplifies it perfectly here. The first key is to make a strong enough screen to force a switch. The second is to make sure the screen creates holes in the defense, which Trudeau expertly does by using his body to force his way inside of the opponent that has switched to defend him. The third is to make a cut incisive enough to become a scoring threat. By executing all three tasks perfectly in this clip, Trudeau gets the team just its second goal of the game.
Creating offense is going to get quite a bit more difficult this summer. And with that change, Trudeau's talents will be more on display than ever before. That spotlight, combined with a likely third consecutive 9-0 regular season for the Riders, should mean a first MVP award for Trudeau.
Division Champion: Boston Night Riders
No surprises here: perhaps the most-talented, deepest quidditch program of all-time should cruise to a third consecutive East Division title with its undefeated streak still intact.
After winning a second MLQ title a year ago, the Night Riders's core broke apart into three teams for the USQ season: RPI, Quidditch Club Boston and the Bearsharks. All three made the Elite Eight at US Quidditch Cup 10 and now will all bring another year's experience and development back together for yet another run as the league's favorites.
It's difficult to pick a place to start with this team. In the bludger game, Max Havlin continues to be the most menacing force in the sport, while Leeanne Dillmann has been playing like the best non-male beater in quidditch and will spend another summer paired with Mario Nasta, whose star has never been brighter. All three, as well as Lulu Xu, offer different looks that keep opposing beaters off balance, from Havlin's havoc to Nasta's blocking to Dillmann's catching. In the quaffle game, Greenhouse, Trudeau and Julia Baer will reunite to once again become one of the sport's most efficient scoring lines, while Jayke Archibald, Teddy Costa and Grace Dastous will be one of its most athletic and fundamentally sound. And in the snitch game, the team can rest on the laurels of Greenhouse and a cadre of talented seekers of varying builds and skills going to work behind the top-notch seeker beating of Havlin, Nasta and Dillmann, a combination that has managed a perfect 6-0 SWIM record all-time.
Behind those core  lines that two championship runs have been built on, Greenhouse has favored young, high-ceiling players, looking to harvest as much talent as possible from the depths of his roster. Their chaser list includes a number of players who have just finished their freshman or sophomore year, from Tufts University's Finn McGarghan to Boston University's Allison Wenner to RPI's Tyler Beckmann, Morgan Bertram and Nicholas Dupre to Middlebury College's Ian Scura. While many of these talents remain raw, shielded from larger playtime by talented upper classmen, a summer of practice with some of the best could easily develop key role players by August.
With Boston every bit as talented as it has been in the past, if not better, it would take a massive step forward by another team in the division to truly contend for the title or even give Boston its first-ever regular season snitch-range game. But Washington has gone young, New York has a glaring hole in its beater game and Ottawa simply lacks the talent to give it a go.
When the Night Riders travel to League City, they will face the stiffest competition for a title they have seen so far, with top contenders like the Austin Outlaws and Indianapolis Intensity upgrading in multiple key areas. But, at least until August arrives, the team's flawless record should remain intact without much difficulty.