Northeast Fantasy Day One Recap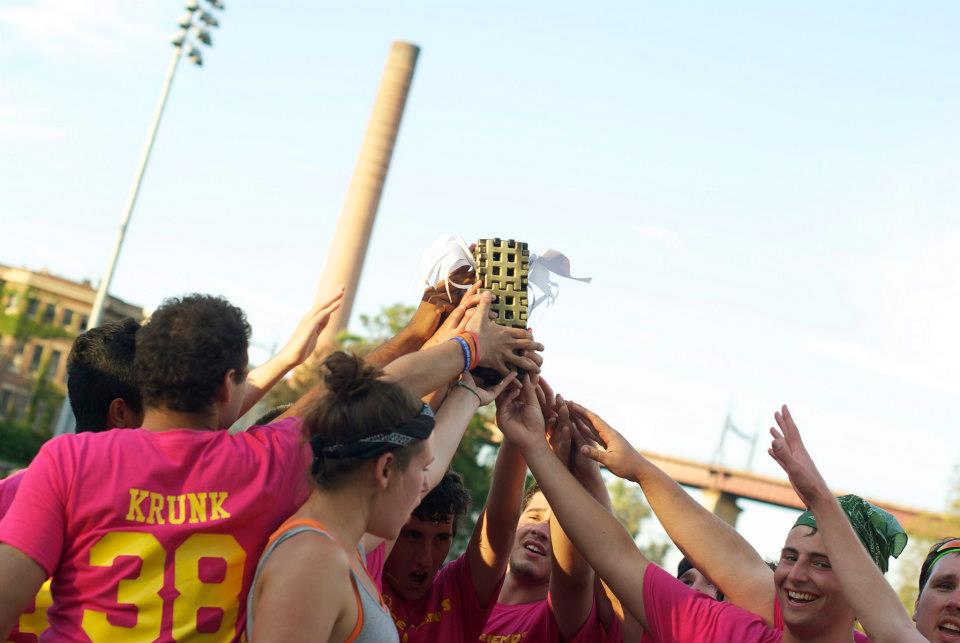 Last night, 15 general managers began the unenviable task of drafting nearly 270 players for the single largest fantasy tournament in the history of the sport, which will take place on Randall's Island on Aug. 3. Night one, during which just 135 players were drafted, took over five hours and left plenty of steals, questionable decisions and analysis to be done. Here, we look at where each team stands in advance of night two, which begins at 9 p.m. EST tonight.
Benny Nadeau
Nadeau's team counted on getting strong female players and then using the sheer depth of the draft to acquire solid male players for cheap late in the draft, primarily looking to pick up Emerson players. Unfortunately, Patrick Sheehy has been fighting Nadeau for these players, as has Jayke Archibald, which has been a become a big problem.
Nadeau has yet to acquire a keeper, a seeker, or a male beater, and he lacks the male chasers to run a double female beater set up, especially given that he paid 340 for two female chasers. He has one of the better female beaters in the draft in Sarah Kneiling, but he dramatically overpaid for Hofstra's Amanda Salvucci at 100 galleons. He also makes an odd decision in picking up both Erin Mallory and Sarah Sherman for 170 each, as they are very expensive players to not have on the field at the same time in all likelihood.
At 130 galleons remaining, and ten players left to be acquired Nadeau is in an inenviable position for the second day of the draft. More than anything else he needs to pick up a male beater, and he also needs to try to pick up some male chasers. With his budger and his needs the prospects for this team are somewhat dim.
Shenuque Tissera
This team has a lot of nice utility and variability between Tissera, Kyle Sanson, and Kevin Du Ponte. It also has very strong male beater prospects led by Chad Brown, though Tissera and Sanson can play there too. With former Maryland captain Josh Marks keeping, the team will have an experienced playmaker at the back directing his teammates and making precise long passes and shots, as well as having Jason Rosenberg to lay some hits. This team's defense is likely to be relatively solid if Shenuque can pick up a decent female beater. On the other hand, this team may struggle offensively, and Shenuque is likely to have difficulty remedying both this and the female beater situation. If he tries to get a solid female beater at this point it will result in a team that likelyneeds to slow down play and count on the snitch pull. A large portion of this team's offense is likely to come from drives by Rosenberg, along with Samantha Elgin and Carrie Franchino creating mismatches to get open for passes from Josh Marks.
With 61 galleons left this team is going to have trouble substantially altering its capacities, it can afford one more fairly big purchase or a number of far smaller ones. Depending on how Shenuque manages his late picks, this team could be quite solid or significantly less so.
Augustine Monroe
This team is entirely built upon a few absolutely phenomenal players with a high level of inherent synergy – Texas' Kody Marshal, Arian Ghoddosy and of course Monroe, as well as beater Jacob Adlis. The biggest problem for this team is that they do not yet have a female beater, and with only 75 galleons left they may struggle to find a decent partner for Jacob. Given UT's typically very conservative beater tactic, this could pose quite a problem despite Adlis' skill, and could lead to a situation like in last year's Northeast tournament where Adlis' team rarely if ever possesses bludget control for any substantial period. Beyond this, the team also lacks a dedicated seeker, although I rather suspect that Kody among others can step in as necessary. Beyond this, there is the depth concern, given remaining funds Monroe won't be able to compete effectively for much of the remaining talent in the pool, so he needs his starters to absolutely dominate when they are in, and the rest of his team needs to be able to simply hold onto the gains produced by the starting line.
With 75 galleons left, Monroe will almost certainly pick up at least one decent female beater, as well as trying to fill up with relatively solid secondary players. I do not expect him to go for a pure seeker, but if he does it will be a very cheap one. Beyond that, I rather expect Monroe to pick primarily defensive players to maintain the lead established by the starting line in their absence.
John Glynn
Glynn has done an excellent job of putting together a well balanced team with a great deal of synergy. His team could easily be thought of as Rochester and friends, with eight of his 13 players coming from the city in upstate New York. John has a very solid beater core, with Harry Clarke, Robert Vortherms and himself on the male side, and Sandra Westover with Erin Macalister as backup on the female side. Just looking at this, Harry and Sandi are an incredibly solid beater pair who John acquired for substantially less than they are worth. Honestly, I wouldy consider this pairing to be in and of itself far and away the steal of the draft, given the relative prices paid for other beaters of similar skill, and that's without even mentioning how long they've played together.
On top of his excellent beater selection, John has made a point of acquiring a very deep line rather than going for a few ringers, and backed up by the excellent beater core this strategy will allow the team to relentlessly grind away at opposing teams, stalling their top lines and capitalizing on their weaker second lines. The team also has excellent physicality on defense, with Brian Herzog, Nathan Love and Aaron Pinzer able to lay hits on bigger opponents while Kyle Savarese eliminates key passing options.
While the team has no pure seeker, Herzog, Savarese, and Glynn himself can all step in there so I don't see this being much of a weak spot. With 79 galleons left, and only 5 players left to choose, Glynn is going to be able to make some good picks in the second day and complete a very deep roster with a lot of talent. At this point, I would regard this team as the best built in the draft so far.
Michael Parada
Parada has a good distributor in Alex Linde, and Patrick Rardin and Parada himself are both are terrifying off ball players, so this team is likely to be able to put up quite a few points between the three of them. Parada may be looking for some synergy between Rardin and Maryland's James Hicks, but Hicks has been suffering from some long-term injuries, and it'll be interesting to see how he shows up. Parada has also picked up an excellent beater in Scott Axel, but as of yet Axel has no beating partner, and with 100 galleons and ten spots yet to fill, as well as a female beater field that is increasingly scant and highly contested, Parada is going to have trouble producing a solid partner Axel. He is however in an excellent position for seeking, having acquired Andrew Zagelbaum, one of the best seekers in the draft, for a mere 110 galleons. With Parada able to sub in and give Zagelbaum some rest, this team has a good chance of making pulls when they matter if the beaters are able to give the seekers an opportunity.
With 100 galleons left and 10 players yet to be picked this is another team that will succeed or fail based on this second day of drafting.
Ricky Nelson
Nelson is in a good place for male beaters with himself and Robby May, but he, like many other teams, may struggle in the female beater department. He currently has Alina Clough from Ives Pond, but she'll definitely need subs, particularly with her asthma. As far as chasing goes, he has a solid starting chaser line in Harry Greenhouse, Andonio Mourdoukoutas and Missy Hanley, but he has no keeper yet. With 12 players yet to be picked and 394 galleons left this team will change dramatically in the second day of the draft. I would look for Nelson to pick up a solid keeper or two, some solid chasers, particularly those who are comfortable off-ball, and one of the better remaining female beaters. With Harry able to seek on pitch, this team could be incredibly dangerous if they make good pickups today, and given their finances I would fully expect them to do so. This team will be well placed to succeed after today's portion of the draft.
Sean Beloff
Beloff has done an excellent job with this draft. With a solid male beater in Aaron Wohl backed by Andrew Copeland, and good female beaters in Shannon Moorhead and Jenna Jankowski, he has positioned himself well to avoid the fights over female beaters today, and made something of a steal in picking up Moorhead for only 30. His chasing set up is less developed, but with the second most remaining cash, and a lot of chasing talent still left in the pool, Sean is in a good position to capitalize on his position and build a solid chasing line today. Beyond that, with Sarah Holub he'll have an offensive mismatch against a defender against almost any team, so if he can get the players to feed Holub the ball for alley-oops, he can do some damage. At a glance ,this team doesn't have a seeker which could be troubling, but Samuel Ravelo Jr. can step in here, as well as being a solid chaser.
With 355 galleons left, 11 players yet to be acquired, and no need to become embroiled in the fight for female beaters I expect Sean to make some very strong chaser and keeper pickups to give this team dangerous depth. He may also look for utility players who can step in to seek as necessary.
Zach D'Amico
D'Amico has established an intimidating starting line with Joe Huggard keeping, Amanda Dallas and Max Havlin beating, and himself, myself and Julia Fillman chasing. This starting line largely lacks size, but has a lot of speed and will be looking to run a passing heavy offense. The big questions will be how quickly the chaser line gels – as drive-heavy offenses need less synergy than passing-heavy offenses – as well as how this line is able to do on defense. Without size, they may have trouble stopping drives from some of the more physical teams depending on how well their beaters step up. For many, Havlin is also a question mark. He is unquestionably an incredibly talented player, but he is known more for chasing than beating. It was interesting to watch the bidding on him, as the only general manager's bidding were those who had attended Boston area summer pickup and were consequently aware that he had been experimenting with beating. This team also lacks a seeker.
With 130 galleons left and 12 players to be acquired this team is going to have to look for depth everywhere and will probably want to pick up some utility players, particularly those who can seek. This team is in something of a tight spot and will have to make very careful bidding decisions to get the depth it needs.
Clay Dockery
Dockery's team started out with a structural disadvantage, as the other GM's are all playing and are strong players in and of themselves. That said, Clay has done an excellent job working around this disadvantage and putting together a fairly complete team in the first day. Dockery did an excellent job with female beaters, picking up Clare Hutchinson and Alexandra Bassa, two excellent Canadian beaters. Clay does not yet have a male beater, but given his female chaser pickups it's evident that he is not planning a double female beater set. Given the scarcity of strong female beaters in the draft relative to other positions, this is probably for the best as you would be unlikely to get the bang for the buck that you would want with this strategy, as well as denying yourself the opportunity to pick up strong male beater and female chasers. Dockery has a very solid keeper in David Fox, who will have a massive presence on offense and defense for this team. Kedzie Teller and Freddy Varone will also be able to do a lot of damage on offense and defense for this team, and Varone's capacity as a seeker makes him a key player for this team.  This team has pretty solid depth, with the exception of the male beater position.
With 68 galleons and eight spots left to fill, Dockery is going to have to look for a male beater or two, and luckily for him there are some fairly solid ones left in the draft. He's likely to have trouble grabbing them though, with the amount of money he has left, so he may have to pick up cheaper beaters and just try to get depth with the second day.
Jayke Archibald
Archibald frequently found himself fighting with Nadeau and Sheehy for picks in this draft, much to Nadeau's chagrin. Archibald spent heavily on a female beater and a female chaser to start the draft, picking up Katie Milligan and Lulu Xu. He picked up Mathew Carderelli to be a partner to Lulu, as well as picking up Michael Mason to give some more beater depth and give Mathew flexibility to chase as necessary. Adding Victor Viega, Jackson Maher, and Tim Keaney, Archibald got a powerful, hard hitting set of male chasers who will be dangerous on both sides of the ball. Acquiring Keaney for 50 was an especially solid pick for this team. Bryan Hall, and Peter Haering gives the team a bit more flexibility with two more chaser/beaters, and Traegar Domoretsky gives them another hard hitting player, this time as a keeper. This team is in a very good position for male chasers and male beaters, it does not however have a seeker or any subs for the two female players.
With 80 galleons and seven players yet to be acquired I would look for Jayke to try to pick up at least another female chaser and beater to give his girls a break, as well as trying to pick up a seeker. He could also easily pick up another keeper, although some of his chasers can likely switch to cover there as necessary. Jayke may pick up another male chaser or beater, but they certainly won't be priorities for him. With his budget he's going to struggle to get the female players he needs as it is.
Samy Mousa
Mousa spent heavily on day one, producing a very complete team and very little choice for day two. Starting with beaters he was able to pick up Kara Levis for 110 galleons, certainly a very strong pick in this draft, as well as getting Kerri Donnelly, another very solid female beater for 50, giving him a very solid, and remarkably inexpensive set of female beaters. Mousa is a little shorter on the male beater side however, with Todd Mitchell and Ralph Palmieri as his only pure beaters. Interestingly this means that Mousa spent only 188 galleons on beaters out of the 983 expended thus far. Mousa also currently lacks a pure seeker. This is an interesting combination because many GM's have reached the conclusion that the two positions with the greatest influence on victory in fantasy tournaments are beaters and seekers. That said, Mousa should be able to more value from his beaters than some would expect. I would particularly expect Todd Mitchell to step up and prove to be underpriced.
Now to where Mousa did spend, chasers Daniel Daughtery, Colby Soden and Meredith Taylor are all excellent chasers fully capable of causing devastation on their own. Thrown together they are likely to wreak havoc, particularly since Daughtery and Taylor already have quite a bit of synergy. The one big concern for this line will be Daughtery's health, as he's had some injuries already this summer. Hopefully, he'll be fully recovered and playing at 100% come August. The lack of a seeker could also appear concerning, but Mousa has been known to value utiliy. A large number of his players are fully capable of seeking on-pitch when necessary, so I don't see problems for him there except against teams who have elite seekers.
With 17 galleons and 5 players left to buy, Mousa won't be able to make any huge pickups in the second day. Instead, he'll be looking to make very, very cheap pickups of decent players.
Dante Close
Close made a point in this draft of holding onto his money after picking up chaser Mo Haggag. He then waited for other general managers to run their funds down before stepping in and making a number of strong picks. The result is that he doesn't have many huge name players, but he has a large number of very solid players and a lot of utility. Dante has Leah Ferrante for a female beater, with Mike Iadevaia for male beating. Dante has solid keeping in Kevin Oelze and Sean Sullivan, although it'll be interesting to see how Kevin is doing due to previous injuries. For seeking, Dante got a very good pickup in Penn State's Collin Leese-Thompson, with Matthew Zeltzer able to step in as backup. Lucy Miller may also slip into this lineup depending on Dante's needs. As far as chasing goes, Dante has a lot of threats, but Mo Haggag is likely going to be the largest on this team.
With 255 galleons left and only five players left to pick, Dante is going to be able to run things in the second day. I would expect him to pick up at least two beaters, one male, one female, a female chaser and a big scoring threat.
Ethan Sturm

Sturm built his team for this tournament with the clear intention of repeating his tournament-winning strategy from the year before. That is to say, Sturm is trying to produce a team with the best seeker and the best beaters so that he can nearly guarantee a snitch catch, as well as slowing down opposing scoring potential enough to keep within range. To this effect, he first purchased Billy Greco, and Heather Knoch, two of the key players from his previous team. Unfortunately for him, their reputations preceded them, and they collectively cost Sturm 570 galleons. His second beater, Michael Sanders from Tufts, cost Sturm another 110 galleons, and his big scoring threat, John Gaffigan, another 200. With his first four players costing him 880 galleons Ethan's picks were severely limited and he has since picked up a solid female chaser in Alyssa Giarosso and a solid male chaser in Brandon McKenzie. It's a solid first line, and his beater core will likely be able to handle almost any other pair in the tournament.
That said, with only 45 galleons left and 11 players yet to be purchased Sturm needs to get some depth. The other half of his previous success was his ability to get steals last year, solid players who no one knew. This year he will struggle far more to do this given greater information amongst the general managers and his incredibly limited budget. Sturm will be looking primarily for chaser and keeper depth in the second day of the draft, as well as a possible backup for Michael Sanders. He will need to rely on Heather Knoch's reputation for not subbing out.
Patrick Sheehy
Sheehy's team so far has a set of quaffle players who can largely be considered power players. Konstantinos Plankas, Walter Makarucha, and Max Blaushield are all veteran players who will be looking to drive on offense. Joanne Lam gives Sheehy a solid female chaser to provide a solid passing option and create mismatches. For beaters Sheehy picked up Emily Crouch and Eddric Uggadan, as well as having Leeanne Dillman able to chase or beat as necessary. With Walter able to cover on pitch seeking this team won't have any great need to look for a seeker in the second day.
With 155 galleons left and ten players left to pickup Sheehy will be looking to pick up depth everywhere. He may want to acquire some faster chasers to supplement his powerful chasers. As well as looking to pick up at least one other male beater.
Jamie LaFrance
LaFrance made a strong bid for a solid beater line picking up Alex Leitch, and Ahmed Al-Slaq for male beaters as well as Kyrie Timbrook and Sarah Woosley for female beaters. With himself, Matt Lowe, and Tom Skudlarek Lefrance has the core of a hard hitting offense and defense, and Ahmed's capacity to seek this team has fairly good chances of pulling in most cases.
That said Jamie doesn't have any female chasers and lacks chaser and keeper depth. With 80 galleons left and 11 spots left to fill Jamie should be looking to pick up at least two, more likely three female chasers, as well as one to two more keepers, as well as solid male chasers. He may also want to pick up a second pure male beater, but his choices will be severely limited by his budget.