Countdown to Kissimmee: Macaulay Honors College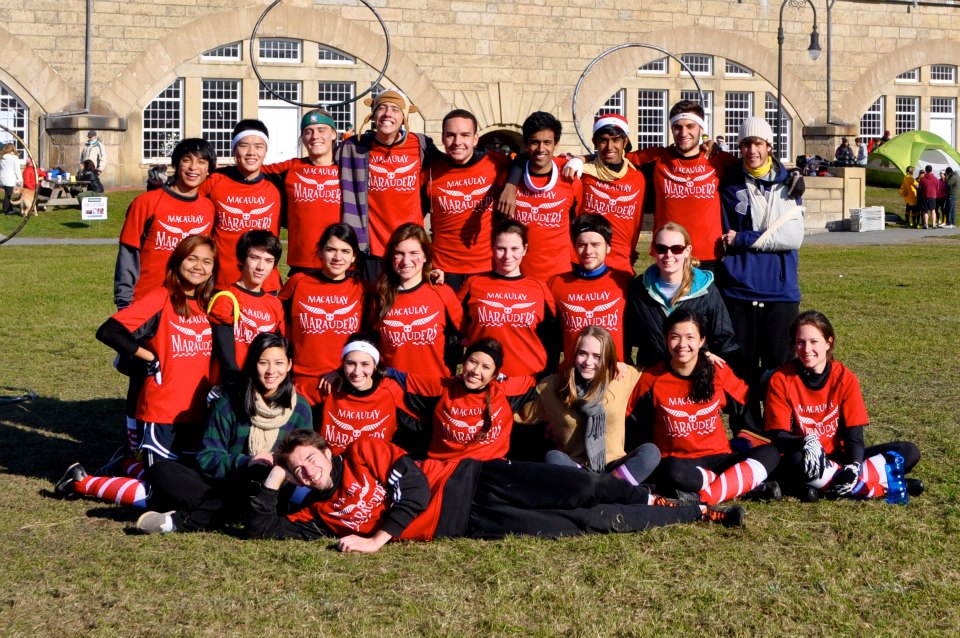 The darlings coming out of the Northeast don't want to be your darlings anymore. After becoming fan favorites due to their big personalities and even bigger pre-game cheer, Macaulay showed up in Rhode Island and let the rest of the region know that they're serious about the game of quidditch. Though they beat other World Cup qualified teams on their way to a bid, a few tough losses showed that they have a long way to go if they want to be considered among the sport's elite.
Best Win: vs. Rochester Institute of Technology (RIT) (80*-40, Nov. 18)
Worst Loss: vs Hofstra (170-70*, Nov. 17)
Key Players: Macaulay truly does define the word "team," doing everything as a group. A different player could stand out in any Macaulay game you watch. Right off the bat, however, Alex Linde almost always stands out in any game he plays. Linde is the brains of this team, and does whatever the team needs to help them win. This chaser recently switched to beater and picked up beating magnificently at regionals to help anchor a defense that led his team to a World Cup VI bid. Later that semester at the End of the World tournament, Linde reverted back to chasing, proving himself Macaulay's most reliable scorer and passer throughout the day.
While Linde is one of the smartest players on Macaulay, the leader of their team's effort to move to the next tier of the quidditch world is seeker/chaser Shenuque Tissera. Tissera is a strong, fast, and tenacious seeker who does whatever he needs to in order to get the snitch. Thanks to his 30-second on-pitch grab against snitch Harry Greenhouse, Macaulay defeated RIT 80*-40 and qualified for World Cup VI. Off the field, he is constantly helping to improve his team and his players through practice and strategy adjustments. This young team was formed just last school year, and has already advanced to the second tier of the Northeast region under the supervision of Tissera. Finally, the 1-2 seeker punch of Tissera and Andrew Zagelbaum is without a doubt the best in the Northeast, and arguably a top 10 seeking core in the country.
Players to Watch:


The man in the middle, ladies and gentlemen, is Andonio Mourdoukoutas, and that clip is entirely indicative of his personality. Better known as 'Doni,' Mourdoukoutas is the heart and soul of Macaulay Quidditch. His passion for the game and for his teammates is infectious, inspiring them constantly to play at their highest level. In important tournaments such as regionals or World Cup, the importance of a player of his calibre is not to be overlooked. Beyond his leadership, Doni is an extremely good and still-developing keeper on the field. He uses his combination of height, strength, and speed to help lead the offense. His vocal nature helps to direct the defense on what to do and where to go, and with such a young team, this strategy helps Macaulay immensely. Opposing teams should watch out for Doni and beware: you may hear him before you see him.
While Jenna Jankowski is well known for her strong beating ability and newfound leadership as the Northeast Regional Director, there is another beater who has flown relatively under the radar, Paula Garcia-Salazar. Garcia-Salazar is a smart beater who helps to anchor the usually-reliable Macaulay defense. She is always aware of her surroundings, and though she plays more defensively, she is never afraid to go up and attack. She is also not afraid to get physical, which is what sets her apart from many beaters.
Strengths: Macaulay finds its strengths in its close-knit bond as a team, its strong individual players, and its defense. The closer a team is off the field, the easier it is for them to trust each other and play better on the field. Macaulay has chemistry off the field which helps keep players motivated and emotionally invested in games, something not all teams are lucky enough to have. Additionally, Macaulay has a roster full of strong players. From quick, fast beaters to strong, smart chasers, Macaulay has enough of each type of player to fill the field with a roster that could take down even the best.
Strategically, Macaulay's biggest strength is its defense. Though it is still being refined, the beater play on the defensive end is some of the best I have seen out of a new team. Even when only one bludger is in their control, the beaters are able to hold solid teams to very few points. Additionally, the chasers have been trying out a relatively innovative scheme (which I won't reveal here) on defense, and while its effectiveness has yet to be proven, if they can perfect it they will certainly throw teams off their balance.
Weaknesses: Although they have good individual players, Macaulay is still in the nascent stage of developing its strategy. Their offense is relatively simple, and experienced teams can rely on tried and true defensive patterns to stop them. They often rely too much on a few specific players, who, once identified by opposing teams, can be targeted and stopped.
Prediction: Macaulay is a solid team with lots of room for improvement. I truly believe they have the chance, especially with their dedication and extremely young roster, to eventually crack into the top tier in the Northeast. Whether or not they are able to do that with only five months between their regionals and the World Cup is another question. If they play like they are capable of doing, Macaulay can definitely grab a spot in the bracket. I predict they will be eliminated in the Round of 32, but don't be surprised if an inspired, emotional effort helps them crack the Sweet 16 before going home.